Transcend was founded to make a difference as we bring forward the next generation of sustainable packaging. We strive to be a place where individuals come together to make innovation possible. Here you'll not just be doing a job, you'll be making a difference. We work with major international brands to help make their packaging more sustainable. Our collaborative effort makes change possible today and helps set a better path for future generations. Join us and be part of the change.
Please see current vacancies below or email: [email protected]
What's It Like Working Here
Transcend is a global pioneer in sustainable packaging category and the first major producer of paper straws in the UK. Over the past two years, Transcend has established itself as Europe's leading producer of paper straws, and an innovator in helping major international brands transition their packaging portfolios to more sustainable alternatives. Accompanied by global recognition in several leading international media outlets such as BBC, ITV, Packaging News etc, obtaining numerous awards and accolades such as The Times' Fast Track 'Ones to Watch.'
Within this global, award winning, fast growing company, we have a management team that has vast experience featuring numerous backgrounds ranging from food service, engineering, manufacturing, Wall Street and Capitol Hill. This team helps lead our positive, versatile and talented workforce. Collectively, our team is now focused on maximising Transcend Packaging's potential to make it a global leader in innovation and sustainability. See below to hear more from our team.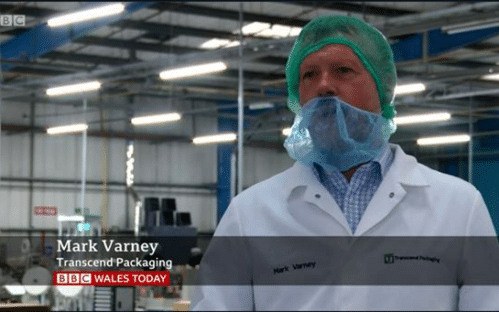 Transcend's Sales and Marketing Director Mark Varney was interviewed by BBC Wales Today regarding Transcend's response to the lockdown measures announced by the Welsh Government. Transcend Packaging has taken all necessary Covid mitigation measures to ensure that we...
Transcend Packaging is honoured to have been recognised by the UK government for our role in helping produce PPE throughout the Covid-19 pandemic and included in the GREATcampaign. The campaign celebrates some of the many businesses that have done extraordinary things over the last few months.
Today, Transcend Packaging, a sustainable packaging company, completed a combined equity and debt investment round of £10 million. The cornerstone of the equity round was based on an investment from London based IW Capital, a private equity firm focused on high...